My family was a
Collier's
household: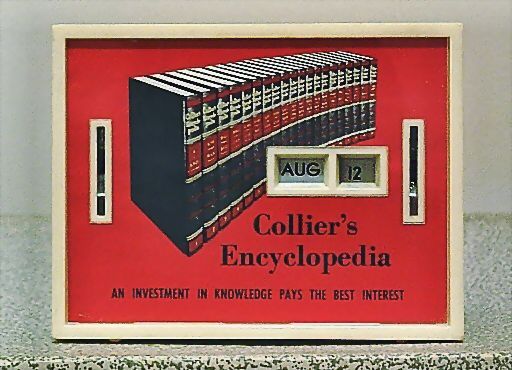 ...In the 1950s and 1960s, a set of encyclopedias on the bookshelf was akin to a station wagon in the garage or a black-and-white Zenith in the den, an object coveted not only for its usefulness but as a goalpost for an aspirational middle class. The books were often a financial stretch, with many families paying for their encyclopedias in monthly installments.
But in recent years, print reference books have been almost completely wiped out by the Internet and its vast spread of resources, particularly Wikipedia, which in 11 years has helped replace the authority of experts with the wisdom of the crowds.
Created as a free online encyclopedia that is now written and edited by tens of thousands of active contributors, Wikipedia has been gradually accepted as a largely accurate source, even by scholars and academics, and one that meets the 21st-century requirements of comprehensiveness and instantly updated material. It has nearly four million articles in English, many of them on pop-culture topics that would not pass muster in the pages of the Encyclopaedia Britannica.
The oldest continuously published encyclopedia in the English language, the Encyclopaedia Britannica has become a luxury item with a $1,395 price tag; it is typically purchased by embassies and well-educated, upscale consumers who feel an attachment to the set of bound volumes. Only 8,000 sets of the 2010 edition have been sold, and the remaining 4,000 have been stored in a warehouse until they can be purchased.
The 2010 edition had more than 4,000 contributors, including Arnold Palmer, the professional golfer (who wrote the entry on the Masters tournament), Jack J. Lissauer, a space scientist at the NASA Ames Research Center (who wrote about extrasolar planets), the professional skateboarder Tony Hawk (skateboarding) and Panthea Reid, professor emeritus at Louisiana State University and author of the biography "Art and Affection" (Virginia Woolf).
Sales of Encyclopaedia Britannica peaked in 1990, when 120,000 sets were sold in the United States. But now print encyclopedias account for less than 1 percent of Encyclopaedia Britannica's revenues. About 85 percent of revenues come from selling curriculum products in subjects like math, science and the English language; the remainder comes from subscriptions to the Web site, the company said.
About half a million households pay a $70 annual fee that includes access to the full database of articles, videos, original documents and access to mobile applications. A selection of articles is already available free on the Web site, said Peter Duckler, a spokesman for Britannica.
At least one other general-interest encyclopedia in the United States, the World Book, is still printing a 22-volume yearly edition, said Jennifer Parello, a spokeswoman for the company, who declined to provide sales figures but said it is purchased primarily by schools and libraries.
Gary Marchionini, the dean of the School of Information and Library Science at the University of North Carolina at Chapel Hill, said the fading of print encyclopedias is "an inexorable trend that will continue."